H
ow can you not love blueberries? I don't get it, they are sweet, good for you, and blue (well purple). My MIL gets all disgusted when I talk about making these. Weird. I found a recipe with a cinnamon streusel type topping and they are oh so good. We just bought a house and the first
we went to use the oven it did not work. I baked like crazy for a month or two just because.



Let's Get started... Preheat oven to 400 degrees F. Now get all your ingredients together.


Ingredients:
1 1/2 cups all-purpose flour
3/4 cup white sugar
1/2 teaspoon salt
2 teaspoons baking powder
1/3 cup vegetable oil
1 egg
1/3 cup milk
1 cup fresh blueberries
1/2 cup white sugar
1/3 cup all-purpose flour
1/4 cup butter, cubed
1 1/2 teaspoons ground cinnamon

Directions:
Grease muffin cups or line with muffin liners.
Combine 1 1/2 cups flour, 3/4 cup sugar, salt and baking powder. Place vegetable oil into a 1 cup measuring cup; add the egg and enough milk to fill the cup. Mix this with flour mixture. Fold in blueberries. Fill muffin cups right to the top, and sprinkle with crumb topping mixture.
To Make Crumb Topping: Mix together 1/2 cup sugar, 1/3 cup flour, 1/4 cup butter, and 1 1/2 teaspoons cinnamon. Mix with fork, and sprinkle over muffins before baking.
I usually cut the topping in half because I always had tons left over. Maybe I didn't pack enough on the tops.

Bake for 20 to 25 minutes in the preheated oven, or until done.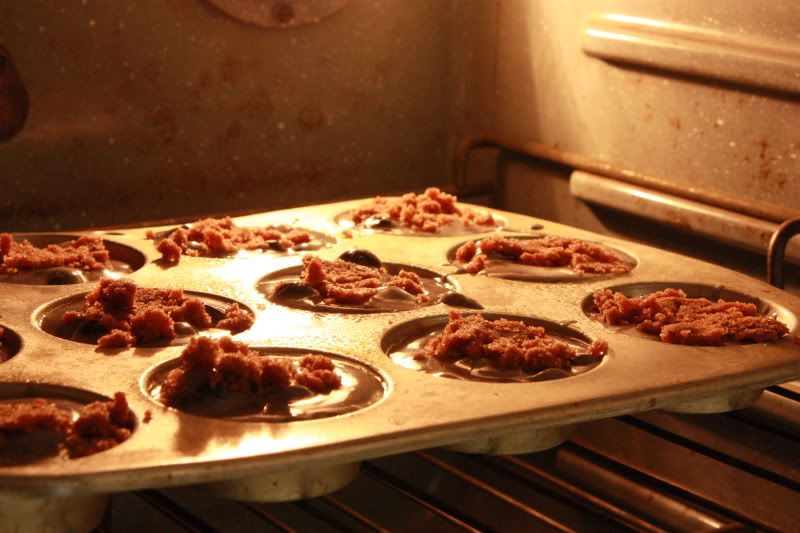 Linking up to these today...
Pin It
comments